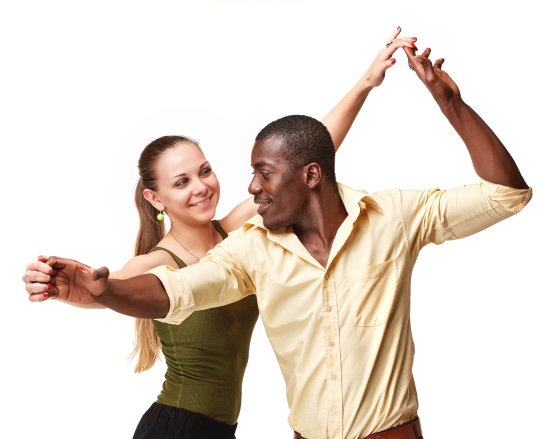 Whilst we are closed due to Covid 19, take a look at our online classes:
If you would like to give a fantastic gift to someone special, how about a voucher for one of our courses or individual classes.
If you are looking for something exciting, fun, healthy and life changing – then you have found it!
We have salsa classes running concurrently at all levels from Beginners to Advanced every week on Wednesdays & Thursdays (except Christmas). For details of all our class times and levels please see our Class Overview. If you are new to Salsa, please see our

Absolute Beginners

page.
Salsa is a lively and exciting style of music and dance which typifies popular culture throughout Latin America. It is a fusion of traditional dances and music from Cuba and Puerto Rico with the jazz influence of New York. The various dance styles of Salsa typically include turn patterns with a partner. Our 8.15pm classes on Wednesdays & Thursdays focus on the 'Cross Body' style, which has become the most popular form of salsa throughout the world. However, many people dance 'Cuban' style salsa, and we now include Cuban classes as one of the mini courses within our Specials classes at 7.15pm on Wednesdays.
Our wonderful teachers give you expert tuition with heaps of fun & lots of friendly encouragement!
On1 & On2
As well as there being a difference in styles of salsa (Cross Body & Cuban), there is also a difference in the timing of steps which dancers use. These days, many schools around the world teach most of their classes On1, where the 'break' steps fall on beats 1 & 5. On2 timing uses beats 2 & 6 for the 'break' steps, although there are various styles of doing so. Our On2 classes focus on the most universally popular 'Eddie Torres' style of On2.
By being able to dance On1 and On2, it allows you greater freedom to express yourself with the music, and enables you to dance with a greater variety of partners (some have a preference for one or the other, or have only learnt one style).
Here at Salsa Southampton we teach the fundamentals of salsa using On1 timing, and introduce On2 with conversion courses as part of our

Specials classes

(7.15pm on Wednesdays). On Thursdays we also have an Advanced Level On2 class (Level 5). Once you have been attending the Level 4 On1 classes for at least 12 lessons, and feel confident with the basics of dancing On2 having done at least one of our On2 conversion courses, you then have the option to attend our Level 5 On2 classes, but please check with our teachers to make sure you are ready to do so.