Online Choreography Course with Elaine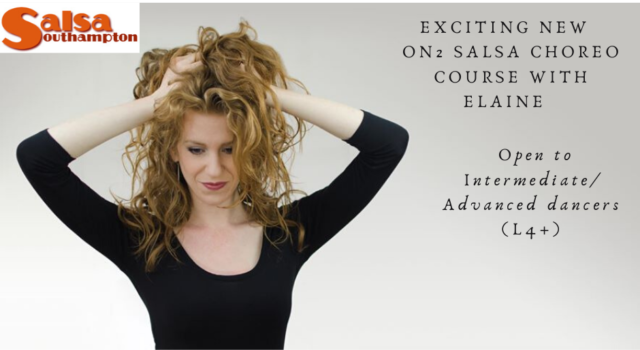 We have an exciting new project for all Intermediate & Advanced Salsa dancers to help you keep active and dance-fit!
Our amazing teacher/dancer/choreographer, Elaine Greenwood, will be offering you the opportunity to learn a footwork choreography with her and it's a fantastic way to increase your dance skills.  This will be open to guys and girls from Level 4 upwards and the choreography will be created to a complete Salsa track.
The choreography will be On2. If you are of the appropriate technical level, but not that experienced at On2, this is an ideal opportunity to hone your On2 skills.
The course will be split into 3 parts – each part will be a 4 week course, and the 3 parts will fit together to form the choreography to the whole track (over 12 weeks in total). You do not need to be available at a specific time – you learn from the videos, which you can view as many times as you like. Therefore you can learn this around your own schedule.
The first class of Part 1 will be issued on Friday 3rd July, but it is possible to do the course starting after this date too.
Although the course is designed to learn the content of classes each week as you go, it is possible to catch up with previous classes if you purchase the course after it has started, or if you have a particularly busy week.
You can purchase the course in 4 week blocks, so you don't need to worry about committing to the full course.
As an added incentive for those who would like to take their dancing to the next level, there will be an opportunity to perform, with Elaine, at a Salsa night at the TLC studio once restrictions have been lifted!  Of course, there is no pressure to take it this far, you can just learn the choreography for fun, your dance development, and to keep you "Salsa-fit".
The cost per 4 week routine will be £25 (£17 concessions) for our subscribers, or £50 (£33 concessions) for non-subscribers.
If you don't already subscribe to our online classes, they cost £8 (£5 concessions) per week.  So for 4 weeks, including the choreography, the total would be £57 (£37 concessions) – therefore you could receive all those additional classes by subscribing for only a few pounds extra.