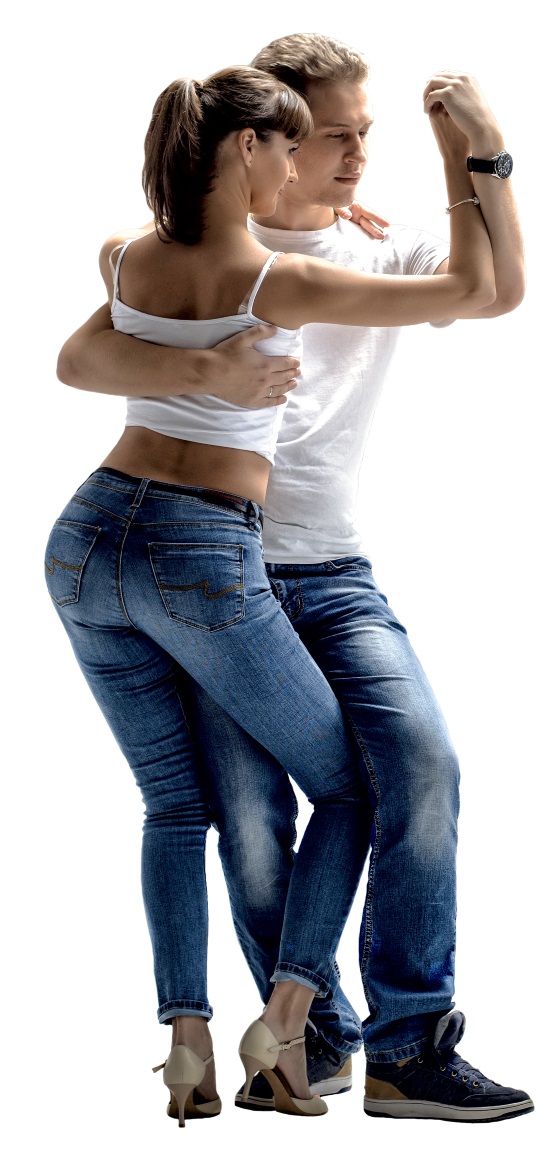 If you would like to express your sensual side through dance, then beautiful Bachata is for you!
Bachata originated in the Dominican Republic, but has evolved into a variety of styles as it spread across the world.  In recent years it has seen an explosion of popularity, especially for Bachata Sensual, which requires a lot of body movement.
Often, Bachata tracks are played within Salsa nights, and sometimes vice versa.  With this pairing in mind, our Bachata classes are immediately before our Thursday Salsa classes every other week, and many people come to both classes.  The social which follows is a 50:50 equal mix of Bachata and Salsa tracks.
Partners are very welcome, but you can just turn up on your own or with friends and we'll rotate the partners for you – it's a great way to meet new friends.
Before taking any of our 7.15pm classes, it is recommended that you have some experience of the basics of Salsa, and have completed at least the Level 1 Beginners Course from our 8.15pm classes. However, we do offer an Absolute Beginners class for Bachata, so if you are only interested in Bachata and not Salsa, it is possible to attend without having done a Salsa Beginners course. In this case you may need to spend a little more time in the Level 1 Bachata class than others who have some previous Salsa experience.
All our Bachata classes are on a drop-in basis, including beginners.
Our Beginners class is for those with no Bachata experience. If you have plenty of Salsa experience, you may only need to do one class at this level before being able to attend the Improvers Level, whereas if you are new to dancing any latin style, you may need to attend several classes to be secure with the basics of timing, partner connection, and lead / follow technique.
Our Improvers Class is for those who are confident with the basics of Bachata. At this level you will learn changes of timing and step patterns (and how to lead & follow those changes), more turn patterns and more body movement. The Advanced class is a significant step up from this level, so you should be completely confident with everything at this level before considering progressing to the next level.
Our Advanced Class focusses on the Bachata Sensual style, and involves a lot of body movement (particularly for the ladies). Leading and following these moves requires a solid technique and good flexibility. Please check with our teachers before attending this class for the first time.
Fortnightly Thursday Bachata
Details
Thursday Bachata classes are held at Tracie's Latin Club.
All classes are on a drop-in basis, no booking required.
If you haven't been to our classes before, please ask one of the teachers to advise on which class you should take.
No partner is necessary.
Prices
Bachata class only: £5 on the door (£3.50 concessions: NUS & IoW)
Bachata class and social: £8 (£5 concessions)
£3 if arriving after 9.45pm for social dancing only
If you do both Bachata & Salsa classes (including social), pay only £12 (£8 concessions)
Further discounts are available with our monthly subscriptions.
Class and social dance schedule

| Time | What's on |
| --- | --- |
| 7.15-8.15pm | Level 1: Beginners Bachata with Debbie |
| 7.15-8.15pm | Level 2: Improvers Bachata with Gareth |
| 7.15-8.15pm | Level 3: Advanced Bachata with Joanna & Andy |
| 8.15-9.45pm | Salsa classes |
| 9.45-11.00pm | Social dancing with DJ Steve (50:50 bachata / salsa) |
We also have vouchers available to purchase as a gift, for any of our individual classes.